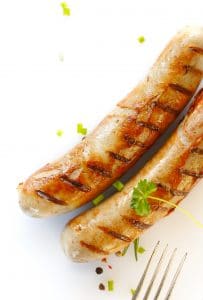 Our most famous original crowd pleaser!
Fresh and clean skinless chicken thighs with a subtle sweet hint of apple, poultry makes it a leaner and healthier choice than pork.
This is a favorite choice of children, seniors, health-care facilities, and sensitive diets.
Available in full-size links (155g), skinny breakfast style (35g), and as a plump little 50g chub.
All cases are 5.5kg and contain 2-equal sized halves, piece-count varies based on link size selected.